Serving Lake St. Louis, Chesterfield, Eureka and O'Fallon in Missouri
Trampoline
Trampoline is the foundation for all acrobatic movement including tumbling, bars, beam, vault, aerials, etc. HI-NRG trampoline students will build extraordinary kinesthetic awareness, outstanding core strength and impressive coordination. Trampoline is an Olympic sport and beneficial for EVERYONE! It is a perfect activity for competitive athletes who want fun, productive cross training. HI-NRG coaches focus on safety and incremental progressions. The students have a blast learning new skills and drills, eventually combining them into routines.  
TRAMPOLINE
Our Trampoline Classes, located in Chesterfield Valley, offers innovative curriculum with proper skill progressions and trampoline safety. This facility has a 500 square foot state-of-the-art air bag, as well as Olympic trampolines, tumble tracks and ninja obstacles! Why join our Trampoline Classes instead of a bounce park? Try a FREE introductory class and see why "Our Coaches Make the Difference."
Competitive Trampoline and Tumbling
Trampoline and Tumbling or "TNT" is the fastest growing segment of gymnastics because it incorporates the fun, explosive movements kids crave. Trampoline is an Olympic event and power tumbling is what all gymnasts, dancers and cheerleaders need to succeed. Our competitive TNT program gives athletes the opportunity to compete their hard-earned skills and learn new ones that will develop extraordinary athleticism. TNT also gives gymnasts, dancers and cheerleaders a competitive advantage. Call now to view a TNT Team workout!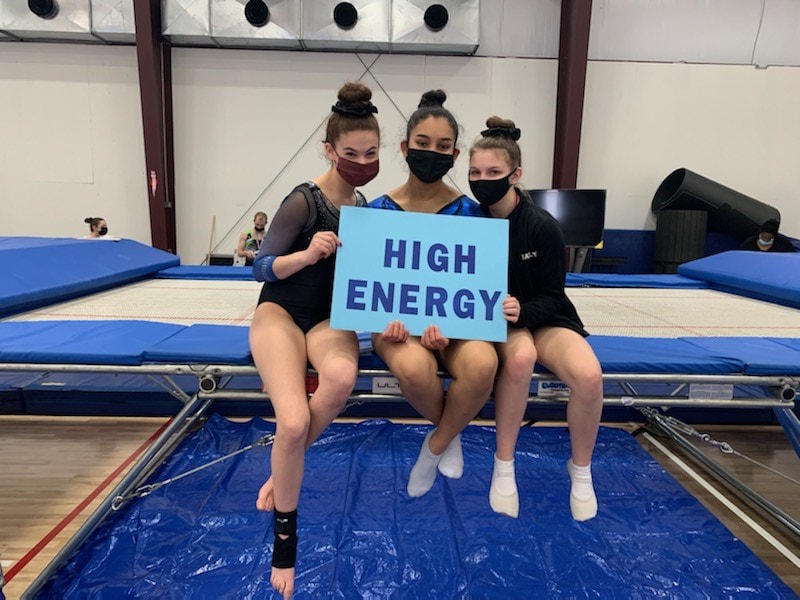 Trampoline- Freestyle
This co-ed class focuses on the fundamentals of trampoline skills and safety. This class is appropriate for ages 5 & up and for beginners who are just getting a start in gymnastics and trampoline. It is geared to athletes who are interested in learning the basic skills of trampoline in a fun and safe environment. Hi-NRG Instructors emphasize appropriate skill progressions, take-off position, and air awareness.
Trampoline- Advanced
The Advanced Trampoline class is geared towards athletes who want to up their trampoline skills and reach the next level. Requirement: (athletes must have at least one of these skills) Back full, Cody, Kaboom, or Double Front into the Airbag.