Serving Lake St. Louis, Chesterfield, Eureka and O'Fallon in Missouri
CHEERLEADING
All of Hi-NRG programs build confidence through tumbling, gymnastics, trampoline, aerial silks, preschool programs and private lessons that create glowing smiles!
Cheerleading is an attractive sport to many young people. Boys and girls alike are drawn to this high-energy sport that combines tumbling, dance, and jumps. Being part of a kids cheerleading team brings a myriad of opportunities to the participants. Not only do they learn new skills and neuromuscular control, but they also learn the importance of good sportsmanship and teamwork in a fun environment.
At Hi-NRG, we believe that building confidence in all of our young cheerleaders is integral to their success both on the team and in their life outside of cheerleading.
Cheerleading for Kids: Routines, Lessons, Tryouts, and More
Kids cheerleading is a high-energy sport. Each cheer routine lasts for two and a half minutes and is set to upbeat music. It combines dance moves, tumbling, and jumps to create a routine that will entertain and raise the audience's spirits.
The competitive cheerleading programs at Hi-NRG's include some type of performance aspect. Young cheerleaders will either perform for their parents and friends at the end of their 8-week session, or they will compete in a youth cheerleading competition. The kids all love to don their cheerleading outfits for the performance and work together to showcase what they've learned.
Tumbling
Tumbling skills are essential for a good cheerleading performance. A child interested in cheerleading will want to enroll in a tumbling class.
At Hi-NRG, we have tumbling classes for all age groups and all skill levels. If your child would like to begin learning tumbling at the age of twelve or later, they will not be placed in a class with six-year-olds. Junior tumbling classes are 60-minutes long and are for kids aged 5-7. Our tumbling classes for those eight and older are 80-minutes long and include strength and conditioning.
Strength and conditioning training is also essential for a good cheerleader. A cheerleading routine is two and a half minutes of sheer athleticism. A focus on strength and conditioning builds the endurance needed to maintain the high level of energy needed throughout an entire cheerleading routine. Various equipment at Hi-NRG include slope-tracks, airbags, and double mini-trampolines.
All of our coaches at Hi-NRG were elite or junior elite gymnasts themselves or are mentored by a former elite gymnast. Their high level of skill and expertise, plus their caring and desire to share their knowledge, makes a Hi-NRG tumbling class the perfect place for your child to hone their skills in preparation for kids cheerleading.
Jumps
Jumps are another central component of a competitive cheerleading routine. The most important jump to learn is a T-jump. A T-jump is where you jump with your arms straight out like the letter T. It is the beginning of all other jumps and needs to be mastered. The T-jump teaches students the correct arm position and how to use their arms to make the jump bigger.
Once the T-jump is on its way to being mastered, kids cheerleading students will use the skills acquired to learn hurdlers, toe-touches, and pikes.
Not only do these jumps build core muscles, but they also develop the quadriceps, glutes, and calf muscles. These muscles need to be developed to be good at any sport. Many athletes will experience injury to these muscles, often because they are not developed synergistically. The muscles are misfiring and not working together properly. Jumps are a good way to avoid this. The better your jumps, the better your muscles are working together.
Introduction to Competitive Cheer
At Hi-NRG you'll find that our upper level competition programs are performance-based. During each 8-week session, students will learn a routine and perform it for their parents and friends at the end of the session. Having the opportunity to perform gives kids something tangible to work towards and raises their confidence. Performances also accelerate learning. When they see that they are able to perform the complex skills and muscle movements they've been working on–and to do it under pressure–their confidence skyrockets.
Some may want to take their kid's cheerleading skills to a more competitive level. These students have the opportunity to join one of Hi-NRG's competitive cheer teams. Any child that wants to join one of our competitive cheer teams is welcome–no one gets turned away. Each child will get placed on a team based on their age level, individual skills, and experience.
All of our competitive cheer teams focus on sportsmanship. To be successful, each team needs to truly work together. If they are not working as a team, they will struggle to learn new skills and perform them in sync in a competition setting. This is especially true when learning and performing stunts. Everything we work on in our competitive cheer programs is based on cultivating true and lasting sportsmanship.
Students who participate in our competitive cheer program will also have the opportunity to travel to Kansas City and Indianapolis to compete. These types of trips are wonderful experiences for young people and are formative in taking their skills, work ethic, and confidence to the next level.
The Importance of Cheerleading for Kids
Like all of the programs at Hi-NRG, our cheerleading programs focus on cultivating confidence, athleticism, and a healthy lifestyle.
We firmly believe that confidence is a key aspect of a child's life and growth. It allows them to try new things without the fear of failure. After all, kids who are instilled with confidence understand that we learn from our failures and mistakes. If they fail at something the first time they try it, they know that all they need to do is to try again, incorporating what they learned in their first attempt. These skills are applicable to many situations in life–not just cheerleading. Eventually, this process helps them grow into well-rounded, confident, and capable adults.
At Hi-NRG, we run the kids cheerleading program (like all of our programs) to build athleticism for future sports and endeavors. Our program focuses on strength and endurance, as well as neuromuscular development. The skills each athlete develops in this area can be applied to any sport the child chooses to pursue in the future. Working on getting all the core, leg, and arm muscles working together synergistically will also help to prevent injury.
Nearly one in three kids in the United States are classified as obese. Obesity is linked to long-term health issues. One of the best ways to combat obesity is through physical activities like cheerleading for kids. Recent studies show that when elementary aged children participated more in physical education, their probability of obesity was reduced. Starting kids at a young age in athletic programs like kids cheerleading, tumbling, or gymnastics instills in them the habits of regular movement and exercise. This leads to confident and healthy children who make healthy lifestyle choices throughout their lives.
Is Kids Cheerleading a Dangerous Sport?

Many parents worry that kids cheerleading is a dangerous sport. This is not necessarily the case. As long as all stunts and tumbling moves are done under expert supervision, there is no need to worry. As a certified cheerleading gym, we can assure the safety of all our young cheerleaders.
As simple as it sounds, keeping kids safe begins with their names. All of our coaches know the name of each and every cheerleader who participates in one of our kids cheerleading programs. How does this make a difference? First of all, it shows that the coaches care about each student and are invested in their well-being. Secondly, if a student is doing something they shouldn't be or if they misheard an instruction the coach can get their attention immediately by addressing them by their name. This helps to prevent mishap and injury.
All of our coaches are taught effective communication skills. Part of that communication is the coach's body language and ability to demonstrate. All of our coaches are able to demonstrate the skills they are teaching. This means that they thoroughly understand the execution of those skills and are able to teach them safely and effectively.
Another way we ensure safety is by teaching all skills in small, incremental steps. We are very patient in this and will not allow a child to learn a more complex skill until they've mastered the necessary basic fundamental components. We like to think that each kid is climbing a ladder to success and that the rungs are very close together.
Finally, in any non-competitive performance, a coach is always on the floor with the students in the back spot position, holding the knees of the child who is up high. In all of our competitive programs, we require consistency before allowing a stunt to be performed. Students will have to prove to their coaches that they can perform a stunt perfectly, under pressure, five to ten times in a row before they are allowed to do it without the added spot. Consistency ensures safety.
All of this helps us to build a high level of trust between our coaches and our students and from student to student. This is instrumental in their safety and success.
Kids Cheerleading Classes Near Me
With four gyms conveniently spaced throughout the St. Louis metro area, you will not have to travel far to find a cheerleading for kids program perfect for your child. All Hi-NRG locations focus on confidence building and sportsmanship in all programs. We also work hard to keep the costs down in all kids cheerleading classes so that more students will have the opportunity to participate. We also offer summer cheerleading camps to help your athletes hone their skills and keep them motivated during their summer break.
Chesterfield
Our Chesterfield location offers performance sessions and is home to our competitive teams. Our locations in Chesterfield offer all of our current programs including the Private Lesson Academy and Aerial Acrobatics. Join us for a Saturday Ninja Night or book St. Louis's best birthday party!
Lake St. Louis
Lake St. Louis is our newest location and offers performance and non-performance cheerleading for kids for students. Other classes offered are coed preschool classes, after school gymnastics, trampoline, tumbling, cheerleading, and ninja obstacle training. Book a "high-energy" birthday party that your child will remember for years to come.
Eureka
We are very proud of our Eureka Location. We offer coed preschool classes here as well as after school gymnastics, tumbling, and ninja obstacle training. Book a "high-energy" birthday party that your child will remember for years to come. At our Eureka location we offer level 1 & 2 cheerleading classes.
Edison
Our Edison location in Chesterfield offers non-performance cheer sessions. You'll also find programs including the Private Lesson Academy and much more. Join us for a Saturday Ninja Night or book St. Louis's best birthday party!
Why Choose HI-NRG Gymnastix for Your Children's Cheerleading Lessons
All of our kids cheerleading programs are high energy and–most importantly–fun! Your child will completely enjoy each and every class and will look forward to the next time they get to participate. The skills that we teach will prepare them for any other sport they wish to try. They go beyond this, however, and also teach them valuable life skills in resilience, self-motivation, and sportsmanship.
Hi-NRG has some of the top-performing coaches in the Lake St. Louis area. Three coaches were elite or junior elite gymnasts themselves, and they have mentored the other coaches on the Hi-NRG staff. Not only are they able to perform the skills they teach, but they are experts in how to break down those skills for clear instruction. This enables them to reach your child in the way they learn best–whether they are auditory, tactile, or visual learners.
Our coaches truly care about the kids in their classes. They take the time to not only learn your child's name but to get to know them as an individual as well. Coaching and mentoring them as they improve their cheerleading skills and mature as a person.
Hi-NRG is a safe place for kids who are looking to experience cheerleading, gymnastics, or tumbling. We work tirelessly to cultivate a positive environment in all of our programs. We are also committed to an environment that builds confidence at every age level. We want to give your child a safe place to try, to fail, and to learn from those failures. In short, Hi-NRG is the place for them to grow into healthy, confident young adults.
Competitive Cheerleading Team
HINRG provides every cheerleader the opportunity to excel, not only in the sport of cheerleading, but in life. When properly taught- cheerleading teaches; self-esteem, self-motivation, self-discipline, determination, work ethic, and time management.
We are proud to be offering our third year of competitive cheer starting in May 2021, Click the link below for more information.
Open Team Practices run from May-August 2021.
Team Placements will be held the weekend of September 10, 2021.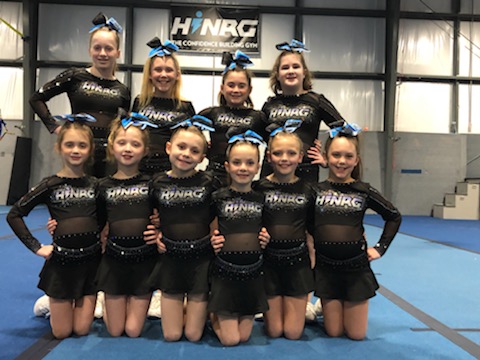 Level 1
In addition to your beginner tumbling class, HINRG offers a level 1 cheer class that is perfect for athletes who want to learn the fundamentals of jumps, intro to stunt safety, motions, and limbers. We will also focus on building balance, flexibility, and strength to help advance as an athlete.
Level 2
In addition to your intermediate tumbling class, HINRG offers a level 2 cheer class. This class will work on walkovers, cheer jumps, intermediate stunt safety and skills, intro to body positions, motions, and so much more!
School & Rec Cheer Squads
Hi-NRG provides the BEST stunt/tumbling instruction to cheer squads. Our highly qualified coaches will work with the athletes on their specific needs. The program is unique in that we not only teach and break down the popular skills such as round-offs, back handsprings, and fulls; we also work with stunt groups on new combinations as well as perfecting already learned stunts.
Our coaches provide the necessary drills and techniques to improve the squad's overall fitness. In addition to tumbling and stunting, we work on jumps, motions, and polishing routines. Hi-NRG is able to schedule week long camps for your squad or weekend/day clinics to give you an edge up on the competition. We are proud to say we've helped many athletes make college cheer squads!
Email US at HINRG.GYMNASTICS@gmail.com for pricing and information on Week Long Camps or Weekend/Day Clinics for your squad!